How Star Media Group Berhad implemented a new revenue strategy to successfully monetize their videos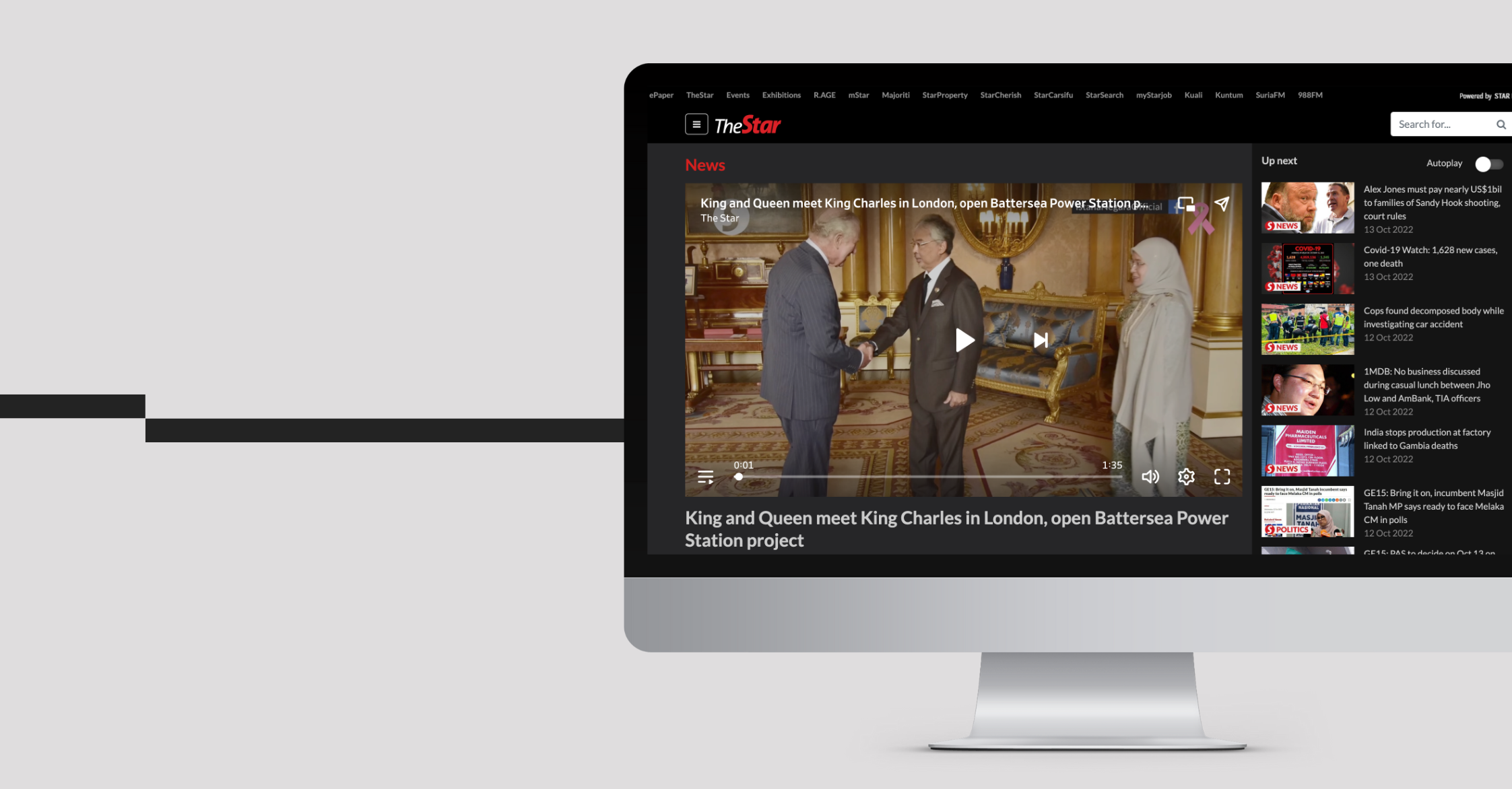 The challenge: A need for a cost-saving video solution 
Star Media Group Berhad (SMGB) is Malaysia's leading integrated and innovative media group specializing in news, lifestyle, entertainment, and education. Their media brands include The Star, mStar, Dimsum Entertainment, 988, and more. SMGB began as a single-product company, which has progressively grown into a multi-channel media group with a strong presence in a diverse range of businesses: print, digital, radio, and events and exhibitions.  
Following their digital transformation, SMGB has increased the publishing of video content to tell engaging and compelling stories for their growing online audiences across 8 digital properties with 85 million monthly page views. While their video consumption has grown over time with their previous video solution, the cost has become a pain point for them. To maximize their revenues, SMGB needed a cost-saving technology solution that could efficiently monetize their growing content library. 
The solution: A powerful video player technology with a revenue-sharing business model 
Dailymotion stepped in as a new video solution partner, providing SMGB with all the premium features and services they expected but with a revenue-sharing business model that allowed them access to those features at no cost while better monetizing their content. "Dailymotion made it possible for publishers to own a powerful free video solution with advanced features and premium support," said David Rozencwajg, Business Development Director at Dailymotion. 
 "With Dailymotion, the technology was simple to implement and integrate, enabling SMGB to upload, embed, and monetize instantly through instream campaigns," he added. "Switching from one video solution to another can require a lot of effort in terms of migration. Having more than 30,000 videos already available across their 8 editorial websites, SMGB first needed support to migrate their existing content." With the mission of providing all partners not only the best technology but also the best experience, Dailymotion provided SMGB with full migration support that helped the Publisher ease the migration of their existing platform and content to Dailymotion within just a month.  
With the solution integrated, SMGB was able to customize the look and feel of the video Player to match their visual identity and brand guidelines. They were also able to customize the behavior of the Player, for example, by enabling Picture-in-Picture, to ensure more visibility, create a better experience for their users and boost engagement. 
SMGB was also able to have control over the ads and recommended content that appears alongside their videos, enabling them to monetize their content and increase visitor engagement without any added costs.  
The result: Optimized video monetization with a seamless watching experience 
SMGB was able to swiftly and easily integrate and migrate their videos from their previous solution to Dailymotion in just a month. As a result, they were able to save on incremental costs by replacing the old solution's paid features and significantly increasing ad revenues with Dailymotion's revenue-sharing business model. 
"
We went with Dailymotion as we wanted to find a replacement for our video solution that not only matched our existing functionality but also provided a better cost option for us, given the industry compression in revenue.
Dailymotion additionally enabled SMGB to have unlimited Player customization to give them full control over the behavior, look, and feel of the video Player to match SMGB's brand guidelines and marketing goals, leading to a more engaging user experience.  
Through a customizable Player solution and flexible ad tech services, Dailymotion empowered SMGB in their mission to keep their audiences connected and inspired.  SMGB can now take their video experiences to the next level through other features such as dynamic playlists, info cards, and curated content—and leverage real-time analytics to improve the viewer experience over time. 
Discover more about Dailymotion